Skibbel - Online Masturbation with Random Strangers
When it comes to masturbation sometimes you just want to be able to chat with random people that you have no connection to. However, you want to be able to chat with only those who are interested in sex chat. This is exactly what the website Skibbel is for.
Skibbel is a website that is similar to Omegle or Chatroulette where you go onto the website and every time you hit next you chat with a new random person. While both of the previously named apps are gauged toward having a clean conversation, Skibbel is all about sex chat.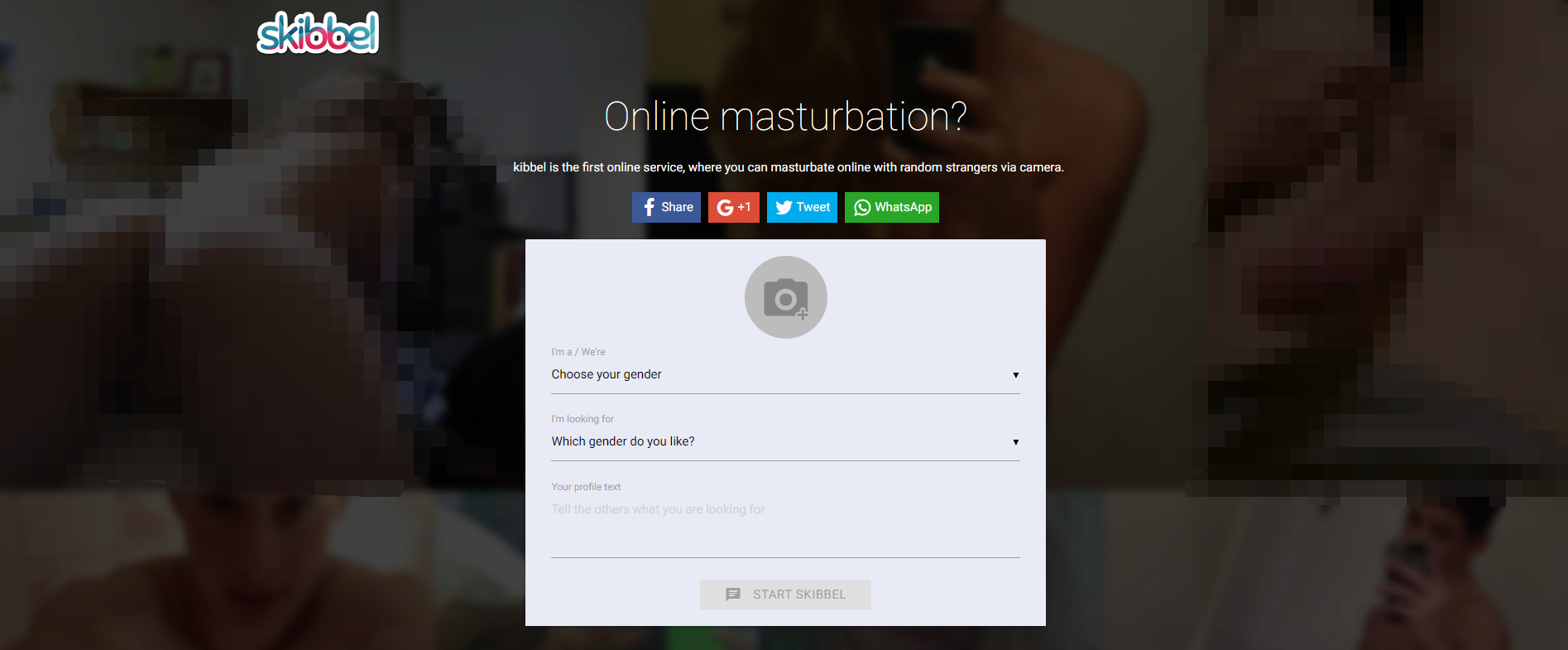 Features Of Skibbel
Skibbel has a number of features but is designed to be a very basic platform. Adding too many features to the platform makes it complicated and expensive. It also defeats the purpose of having simple, no strings attached chat conversations. Here are the features you will find:
Simple Text Chat
Picture Messaging
Cam Chat With Audio
Fully Functional Android App
Partially Functional iOS App (Text and Pictures Only)
No Limits
In addition to the normal chat features, you also have access to category specific chats. Here are the additional categories that you can find:
Gay Video Chat (Skibbel)
Masturbate Chat (Skibbel)
Gay Chat (Gydo)
Sex Chat (Sexeey)
BDSM Chat (Sadomaso)
Free Sex Videos (XSwiper)
While some of these chat features are hosted on different sites, they are all hosted by the same company and have similar features.
Look And Appearance
What you will find when you first get to Skibbel's website is a typical website appearance. It has a tiered appearance with each tier holding different content. At the very top, to make use easy, is the small form that you need to fill out in order to start using the chat features.
Once you get into the chat section you will find the look and feel much like any chat platform. You have the option to chat with a clean chat window that looks very much as if you were text. There is also a full screen video option that has a small window that allows you to watch your own camera too.
Cost To You
Skibbel is a completely free app. The creators wanted to design a platform that doesn't tie those who want sexual encounters down. Something that anyone can afford, and that is exactly what they designed. As they say on their website, it is 100% free. That includes having no paid accounts.
Do You Need An Account?
Almost all sexting websites require you to have an account. They do this partially to earn money but there is another reason behind it. They do it to cover their asses by ensuring that all users are of age. On Skibbel they just have you state that you are of legal age. A statement that you are of legal age is similar to what you would find on free porn websites or other such platforms.
So if you don't need an account, than how do you ensure that you chat with the right people?
Skibbel has you create a temporary profile when you start the app or use the website. You can add a picture, tell them what gender you are, and what gender you would like to talk to. After that you write a small profile. You are free to talk about whatever you want. We recommend that you create something interesting and fun.
The lack of accounts gives you another feature, the ability to use the website completely anonymously. When signing in without a username and without a profile, you only give out the information that you want to give. In addition, if you are video chatting, Skibbel has purposefully given you access to features such as using the rear cam in order to reduce identifying yourself.
Skibbel is a great platform when it comes to having free sexual encounters. You don't even need to pay anything. Who hasn't wanted a platform where they can go to in order to have no strings attached help masturbating? Well now you have it and there is no risk in trying either the text chat features or the video chat features.