Bateworld - An Active Masturbation Community of Men
Bateworld is one of the oldest communities for men who like to masturbate. It started out on the internet as just a forum for men to talk to other men about masturbation. Hundreds of pages of forums exist from years of use of the website. Bateworld is a huge community with lots to show for the years.
In today's article, we are going to look over Bateworld and see why it has risen to be a massive community for men to discuss masturbation. And why it continues to be active.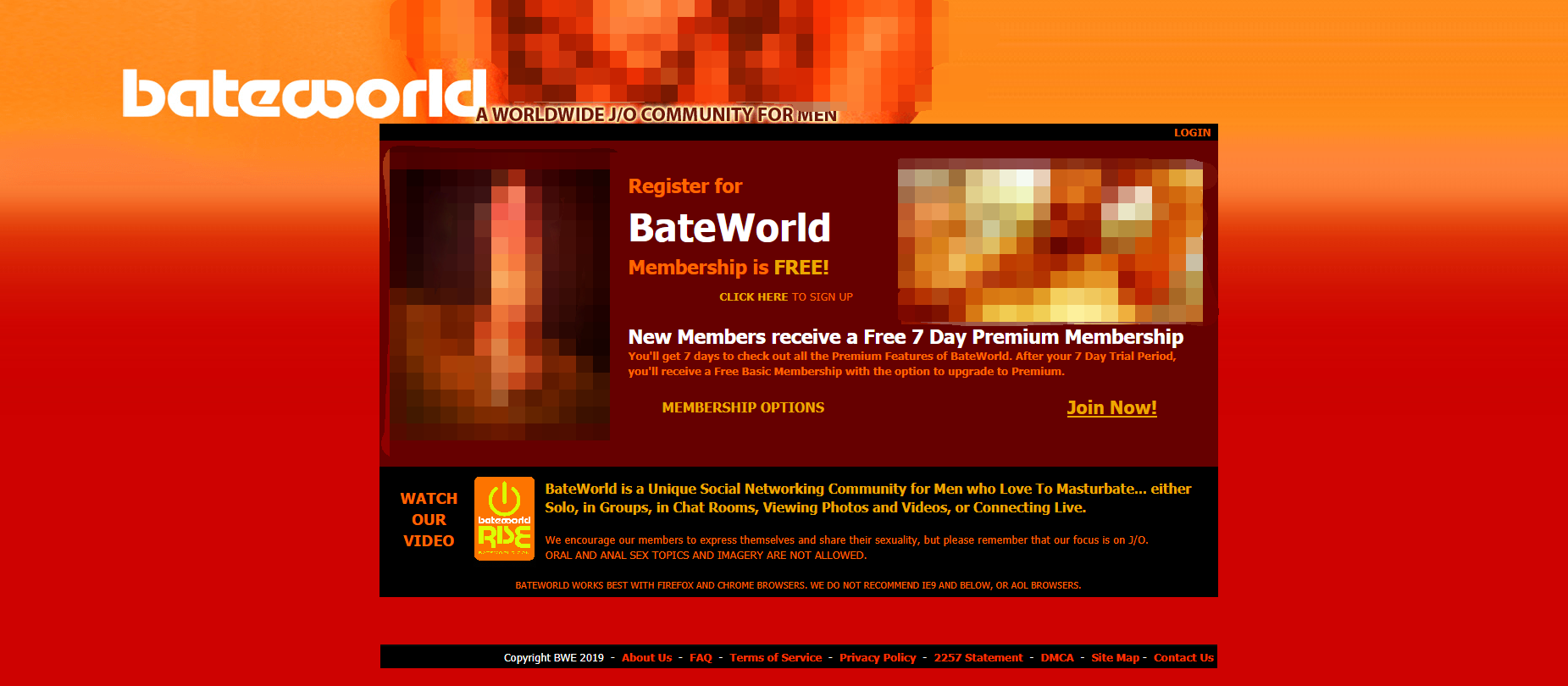 The Look And Feel
One of the things that you need to know about Bateworld is that it is an older website. It clearly shows when accessing the website. The glaring red background can be an eyesore and the red headers with white text are very similar. You won't find a website that looks like Facebook.
With all of that being said, what you do find is a website that works. The lack of major visual changes to the website has ensured that it continues to function as expected. You also won't log in one day and not be able to find your way around. That doesn't mean that features aren't improving, the visuals are just here to stay.
When it comes to profiles, Bateworld's old-style appearance still holds but you have standard features. Features such as walls, profile pictures, photo albums and more are all on profiles. In fact, the majority of users fully set up their profile due to the active nature of the community.
Forums
The forums are what most people end up find themselves using in addition to the photos and videos. You can talk about just about anything that you want in the forums. You can find just about anything that you want in the forums from tips on how to masturbate to discussions on kinks.
Generally, you will find that the forums are a friendly and welcoming area. But remember, it is the internet and there will always be trolls.
Pictures And Videos
A big portion of the Bateworld website is the access to pictures and videos. These are what people use to help get off with. Members upload a large variety of pictures, whether it is softcore porn or hardcore porn. There are around 20,000 photo collections on the website and approaching 8,500 videos. These numbers are constantly growing as the website continues to attract new members.
Keep in mind that this content is member submitted. That means that while most of the pictures are of great quality, there are some that are lacking what you would find from professional quality images. The same goes for the video. Overall though, the majority of the content is A+.
Membership Options
Most sex sites whether for dating or masturbation have a free membership and one or more paid membership options. On Bateworld you have two membership options. The first option is the Basic Membership. The second is the Premium Membership.
Basic Membership
The Basic Membership is the standard membership that you get among joining the website. It is free and includes a fair amount of features. More features than your typical free membership. Here are the features that you get when you sign up for a Basic Membership:
A Personal Profile
Access To The Member Database
View and Create Photo Albums
Access To The In/Out Messaging Service
Access To Instant Messaging
Ability To Use The Forum
Access To Events
Access To The Bateworld Blog
Premium Membership
Premium Membership to Bateworld is their only paid option. It gives you access to everything the free membership does plus more. Access for 90 days is $25, 180 days is $41, and 365 days is $60. You can also get the 90-day recurring plan at $21. What else do you get from the Premium Membership to Bateworld?
Access To The Video Chatroom
Create and View Videos
Access To The Groups Feature
Ability To Initiate IM Video Chat
Store Private Notes On Your Account
Overall Bateworld is a great place to go to masturbate. You will find plenty of content to work with, not to mention that content is constantly being added. If you want an easy place to go and masturbate, we highly recommend giving Bateworld a try. Especially since you can access a large amount of the site without having to pay a cent.